November 24th at 9:27pm
Whilst the days are getting shorter I have been enjoying what daylight I can get in my studio. The second graphical score (see below) has now been handed out to two live coders/composers Shelly Knotts and Nick Collins. I'm curious to hear what they come up with.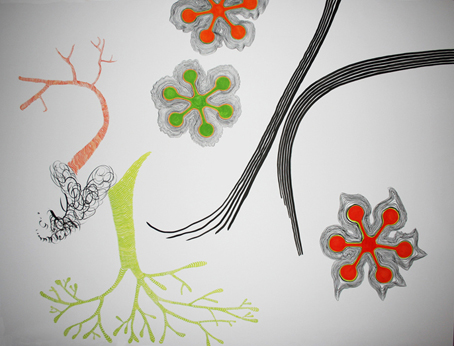 My sound card has also arrived and so I will start this week on some of the sound compositions exploring timbre. In fact I am just getting ready to test it works first.
The second interface for the live performance using biosignals has also made some progress, as it is almost ready to start recording the various biosignals we can get with our sensors: heart rate, EEG and GSR. We (myself and Nick Collins) will listen to distinct pieces of music/sound compositions that make us feel one of the following eight emotional states: happy, sad, angry, excited, calm, tender, annoyed and scared. The biosignals thus captured will then be used to train a classifier that can detect these states. In a performance scenario the system will then respond with animated graphics and sound based on detecting these emotions in the two performers.
And last but not least, the visual survey has now been taken by 17 people. Many thanks, and if you haven't done it yet, do have a go. All you need to do is click the participate button on the top right of this screen and follow the instructions. Only those done till the end (32 images) are saved for research purposes. But if you get tired in the middle you can take a break and resume after a few minutes, just keep the window open.
More next week!